Do you ever feel, sitting in the quiet, facing a mountain of work, the need for some theme music to get you pumped up?
That is me this morning. I need the Rocky song.
Some of you know I have been feeling kind of odd and uncomfortable about having my book,
Lessons From A Dead Girl
on the official
American Library Association's
"banned books list".


Shop Indie Bookstores
Well, recently, I have been feeling better about it. Because suddenly I am getting all of these Google alerts for the book. And they are not of the
"this book is evil/perverted/sick/harmful/inappropriate"
ilk.
No!
They are of the
"Hey, this book is on the 'Read a Banned Book Challenge' and you should put it on your list so we can talk about it!"
variety.
Yes!
And why this change? Because
Banned Books Week
is coming up and because there are these amazing librarians out there putting lists together to give these books some love and positive exposure by encouraging readers to put them on their to-read lists.
THANK YOU librarians, for taking on the book banners with humor, thoughtfulness and intelligence. Thank you for caring and understanding that talking about books that challenge our way of thinking about the world, about society, about secrets that shouldn't be makes us stronger, not weaker or more vulnerable. Thank you.
And thank you to all the bloggers who have joined the
Lit Bites challenge to read and discuss these books!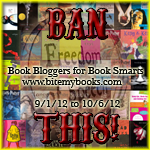 While I'm not a fan of making books fight each other, I love that it can open discussion about both books. If you'd like to give Lessons From A Dead Girl some love (or the other book!), you can go to the Lit Bites "Book War" page where Living Dead Girl and Lessons are doing the Rocky thing.
Go here and vote/comment.
:-) Thanks!
~*~*~*~*~*~*~*~
Monday Morning Warm-Up:
Write a cheer to get yourself motivated and post it in the comments so it can get me motivated too. :-)